Ethiopian Limu Washed Coffee Beans. Ethiopia is, as I am sure you are aware, the birthplace of coffee.
Limu coffee beans have the big flavours of chocolate and caramel.  The mouthfeel is balanced and it is a very delicious coffee.
It is one of our best sellers as it consistently good every year.
The Region
In Ethiopia, we can find all-important elements for growing coffee beans: favourable altitudes, ample rainfall, a suitable temperature and fertile soil. These ideal conditions enables coffee to grow through out the country.
About 400,000 hectares of land in the regions west, south and east of Addis Ababa are planted with arabica coffee only, at elevations above 3,600 feet. About 80 percent of Ethiopia's exports are natural (sun-dried) arabica coffees, the remainder is washed.
The coffees in Ethiopia are all named after the geographic location where they grow, hence Limu. Limu coffee grows in the southwest of Ethiopia between 3,600 and 6,200 feet.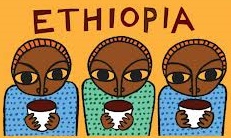 Green Limu Coffee Beans

About five years ago, the coffee industry in Ethiopia was reformed and, as a result, coffee cooperatives can now sell green coffee directly to foreign buyers. The cooperatives in Ethiopia are working under the umbrella of so-called "unions," of which there are four in the country, representing at least 140 cooperatives and thousands of coffee farmers. tural Ethiopian Beans
Ethiopian Limu Washed bean is one of the premium gourmet coffees worldwide. Very similar to Sidamo and Yirgacheffe - as one would expect since it they are right next to each other geographically.
Generally speaking, Limu coffee is different from its next door neighbors (Sidamo, Yirg) because of a slightly more citric snap to it. The bean is medium in size, has a distinctive rounded shape and greenish colour.
Limu is one of our best sellers and a coffee people enjoy for the mouth flavours and sweet chocolate aftertaste.
BUZZ Coffee now sells its entire range of speciality blends and single origin coffee online. Buy some BUZZ coffee Ethiopian Limu Washed  beans online today.
Acidity:
Low but sharp.
Body:
Well balanced.
Aroma:
Mixed berries, spice, cocoa.
Flavour:
Chocolate, spicey, pleasantly sweet with floral overtones.